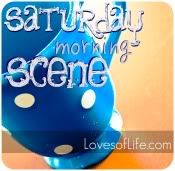 Decided to try something new this morning and link up with
Loves of Life
to share our Saturday Morning Scene! Be sure to head over to see what others are doing and share how you are spending this Saturday!
C watching Thomas cartoons while eating his breakfast on the couch.
Cooper just waiting to see if C will decide to "share" his waffle.
N playing in his swing, already dressed, waiting for our busy day to begin!